Career Opportunities at CFSHC
Full Time Speech Language Pathologist
Central Florida Speech and Hearing Center is seeking an enthusiastic speech-language pathologist to join our team!
The Center has provided speech-language and audiology services for central Florida for almost 60 years. Our beautiful facility is located halfway between Orlando and Tampa, off the I-4 corridor.
We are social media savvy and are growing by leaps and bounds. If you're looking for a progressive career, check us out at www.cfshc.org and like us on Facebook!
Our Speech-Language Pathologists evaluate and treat a diverse population of children and adults presenting with disorders including, but not limited to:
Articulation/Phonological Disorders
Receptive and Expressive Language Disorders
Aphasia
Apraxia/oral motor
Auditory Processing Disorder
Literacy/Reading Difficulties
Stuttering/Dysfluency
Dysarthia
Hearing Loss
Autism Spectrum Disorder
Compensation Package includes:
Flexible schedules
Employer paid healthcare
401K with 3% company match
Paid continuing education
Paid time off
Paid licensure and professional dues
Competitive salary
Private office with a separate observation room
Send Resumes to:
rcole@cfshc.org
OR
Central Florida Speech and Hearing Center
Attn: Robin Cole
3020 Lakeland Highlands Road
Lakeland, Fl 33803
Audiology Doctoral Externship (2020-2021)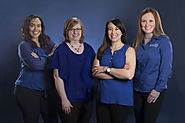 This externship position is available to eligible fourth year Audiology students enrolled in a four year doctoral program. Start and end dates are flexible depending on your University's requirement.
The Position
Our department includes three Doctors of Audiology, one with ASHA certification, one Audiology Assistant, and a current Audiology Extern. We are looking for a candidate who is flexible, thinks outside of the box, and is open to collaboration with others.
The Center
Our Center serves a variety of patient populations, including adults of all ages and pediatric patients. Some of these patients have special needs. Diagnostics and hearing aid treatment, including selection, fitting and follow-up care are the majority of the appointments seen as well as newborn hearing screenings by resting Auditory Brainstem Response (ABR) testing. Appointments for cochlear implant evaluations and mappings are increasing in number. Osseointegrated devices are activated and programmed at this Center. Offsite pediatric screenings are performed throughout the year.
This Center includes a unique and dynamic format which is similar to a private practice including a strong sense of autonomy in our department at the same time being a non-profit Center, helping patients who are underserved in our community.
Application Requirements*:
Interested applicants please submit your resume and a letter of intent to knail@cfshc.org and to rcole@cfshc.org. Letters of recommendation are not required but greatly encouraged.
The deadline to submit documents is Friday, September 6, 2019
Thank you for your interest in joining our team. We look forward to speaking with you soon.
*Acceptances are contingent on completion of necessary paperwork and credentialing that may be required by the student's University program. Interested applicants should ensure that their University program coordinator contacts Robin Cole to determine if any further paperwork or credentialing is necessary in order for the extern to participate at our Center.